Great Dane Adoptions & Rescue, Inc.
Awareness Print Ad Campaign
The Challenge
Great Dane Adoptions and Rescue, Inc. is the largest Great Dane rescue group in the West. Located just east of Los Angeles in Riverside County, Great Dane Adoptions and Rescue was founded by Burt Ward, who gained fame as Batman's sidekick, Robin, in the 1960's television series. To protect Great Danes from being euthanized in animal shelters, Burt has built a comfortable home which provides sanctuary for these gentle giants while they await adoption by qualified permanent "parents." To further its mission, Great Dane Adoptions and Rescue needed heightened awareness and support throughout the community. The hope was that through advertising they could reach a larger audience, spread the word about the Great Danes' plight and recruit donations and new adoptive homes.
The Approach
In response to this need, an effectively heart-touching ad campaign was created by Wilkin Guge Marketing as a component of the award-winning agency's commitment to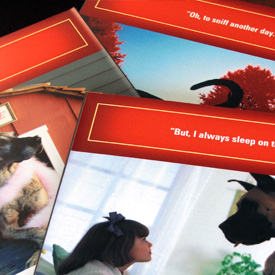 community outreach and service. As part of Wilkin Guge's annual charitable donations, the agency contributed all creative and design work for a series of three awareness ads, coordinated a substantially discounted placement in local newsprint and organized photography donations for the campaign with several professional photographers, including Myron Beck of Los Angeles, Cameron Davidson of Alexandria, Va. and Don Mason of Seattle.
The Results
Since 1994, Great Dane Adoptions & Rescue, Inc. has found homes for more than 3,000 Great Danes! As a result of the print ads, Great Dane Adoptions and Rescue has received increased phone calls, from simple questions about raising Great Danes to adoption inquires, as well as an increase in visits to its Web site. And, as a special reward to Wilkin Guge Marketing for its pro-bono support of the cause, the agency was honored with an International ADDY® award for the campaign, the most prestigious award in our industry.