Glencrest Investment Advisors, Inc.
Primary Research and Branding Campaign
The Challenge
As a wholly-owned subsidiary of PFF Bancorp, Glencrest Investment Advisors, Inc. was a new company seeking to gain market share in the Inland Empire among high-net-worth individuals. Upon a review of initial secondary data, including national studies about wealth and investment patterns, Glencrest found no information about their target audience specific to the Inland Empire. Glencrest sought a better understanding of the wealth market within their primary footprint of Riverside and San Bernardino counties in order to develop a strategic plan to increase awareness and lead generation.
The Approach
In order to gain necessary information and create awareness for Glencrest among their primary audience, Wilkin Guge Marketing conducted the first-ever Inland Empire Wealth Study in 2003. A survey was sent to over 8,000 individuals in the Inland Empire with a net worth of over $1 million, including questions about types of investments owned and investing patterns since the market downturn in 2000. The results allowed WGM to craft a customized profile of Glencrest's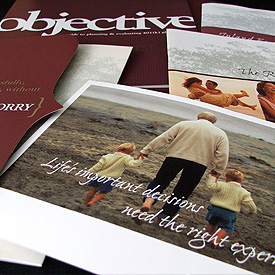 best potential customers and develop a strategic marketing plan for Glencrest, including branding and advertising strategies designed to communicate most effectively with Glencrest's primary audience. WGM then implemented a coordinated public relations and marketing campaign including key investment-related speaking opportunities for Glencrest's experts, a series of direct response mailings on major topics of concern from the Wealth Study, a new corporate brochure, a series of print ads and guest columns written by Glencrest in publications with a high concentration of readership among Glencrest's target audience.
The Results
A significant strategic shift occurred when the 2003 Wealth Study revealed that more than 50% of Glencrest's target audience lived in the Coachella Valley. With that knowledge, Glencrest opened an additional branch office in Palm Desert to better serve the desert population. Since then, Wilkin Guge has conducted Glencrest's proprietary, one-of-a-kind Wealth Study biennially, clearly defining Glencrest as a thought leader in understanding the Inland Empire's affluent population. The 2005 Study provided the firm with initial trends about the attitudes and behaviors of the Inland region's affluent when compared to the 2003 Study's responses. Strategically, the Wealth Study data supports Glencrest's annual strategic plan and provides Glencrest with enviable opportunities for visibility among key business leaders, financial executives and prospects in the Inland Empire.